Hardly ever do you get truly lucky in this life. Most of the time what seems like luck is due to things like hard work, preparation, and karma. But sometimes you get blessed with great health, amazing best friends, and the whole row to yourself like I did on both of my flights to Spain.
I decided to make this blog because I wanted to share all of the wonderful things my trip to Spain gave me. It will be one of many blog posts so stay tuned!
Day 1 - Barcelona, Spain

Planning In A Way That Leaves Room For The Unknown
My best friends, my brother, and I booked our flights to Spain; we comically call this little gang of ours the "Lagoonies". We all booked our flights all one at a time, convincing one another that they should go too. The original plan was to fly into Barcelona and spend time traveling around Spain. Quickly we decided that motorcycles would be the best mode of transportation since we all love to ride and most of our lives have been spent on two wheels. And really, is there any other way to see the countryside of one of the most beautiful countries in the world than on a motorcycle? No, there isn't.
As our departure edged nearer, we were forced to make some sort of reservations, but as a major theme, we wanted to avoid overbooking our trip so that we would have the freedom to be spontaneous. So we decided we would book the motorcycles for 6 days and book an Airbnb for the first night just to make sure we had a place to land before our long ride began. The rest of the trip reservations were left up to the way of the road and the will of our vagabond hearts.
Booking the Airbnb for the first night was one decision we were so glad we made in advance. We ended up booking possibly the best condo in all of Barcelona. Not only was it a clean and modern condo with a private rooftop, it stared directly at the Sagrada Familia, the infamous church design by Antoni Gaudi. This view was incredible and something that people pay large amounts and wait in long lines just to see. The photos just don't do it justice, it was breathtaking.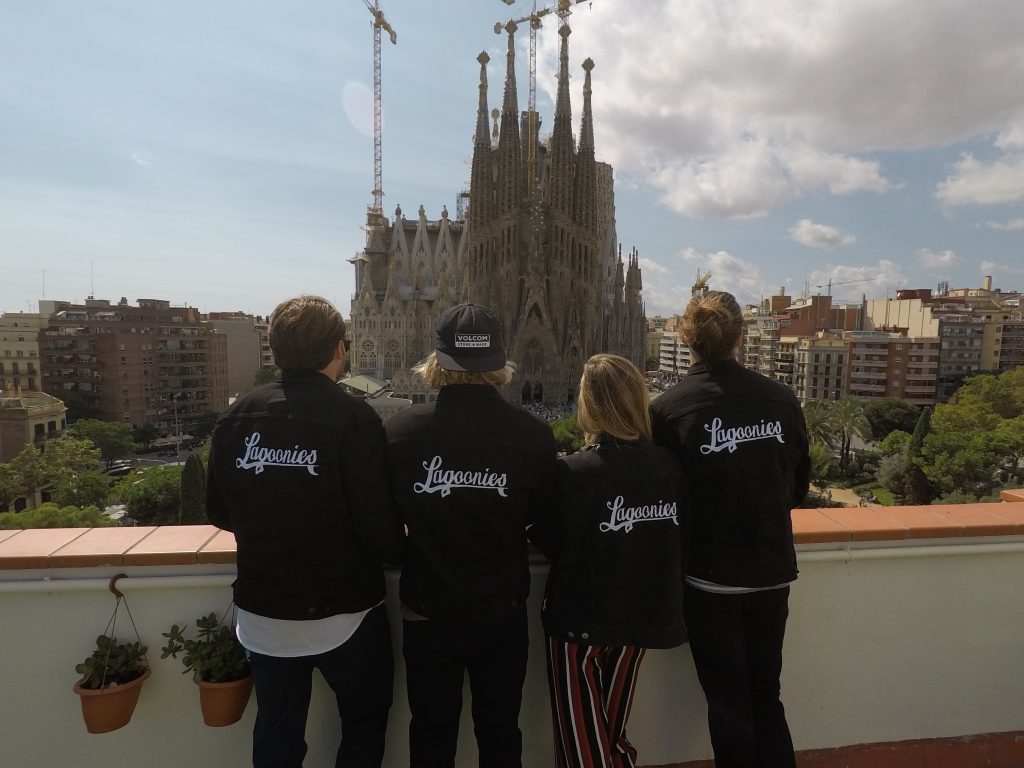 Our arrival included a personal introduction from the owner and a free bottle of Cava from the cafe he also owned downstairs.
We spent most of the first day seeing the sights of Barcelona. Here are a just a few photos!
We then found ourselves at a beachside restaurant with amazingly fresh sangria and eating a very memorable meal of tapas.
Perks Of Traveling Is Always Having Great Friends In Every City
Our friends that we met while traveling in Costa Rica and that now lived in Barcelona, joined us on our rooftop for drinks and to take in the beautiful view as sunset encroached. They would be the best hosts and tour guides of all the best that Barcelona had to offer.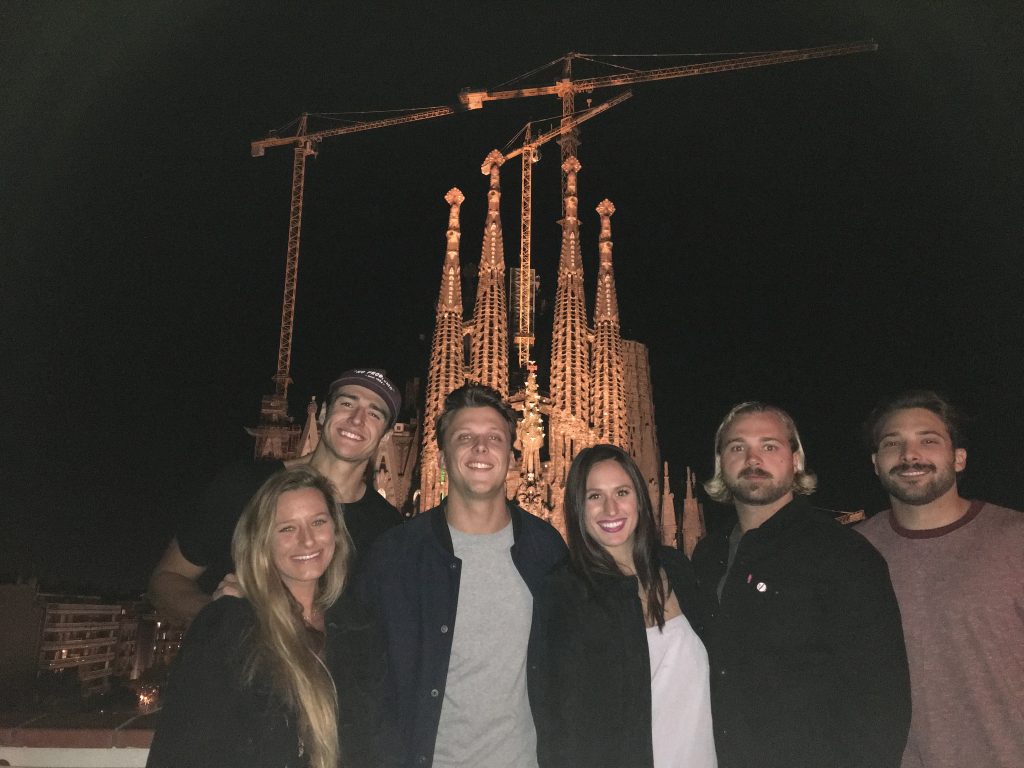 Even though we have been removed from southern California for less than 24 hours, we easily said yes when our hosts recommended the best and only Mexican spot in Barcelona, Rosa Negra. The food and drinks were surprisingly authentic and cheap (Don Julio Anejo only being about 6 euro). As we took our last round of shots, we headed to the next spot.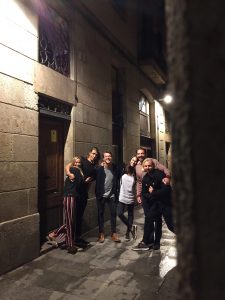 As we starting walking into the Gothic Quarter the streets turned into narrow dark alleyways. This region is known for having great bars with little to no insignia and Morrocan peddlers that will sell you anything from beer to pizza as you walk by. This all would feel sketchy in the U.S. but here it was totally normal. (This blurry ass picture was all we could pull off in the state we were in)
We found ourselves at the Lime House, home to more specialty house gins than you can count. You can get a gin & tonic made with anything from lime to chocolate flavored gin. It was fantastic and again surprisingly cheap. The vibe was like sitting in the dungeon of a medieval castle, drinking spirits with criminals. After about an hour of drinking gin and trying to block out an annoying Frenchman from trying to join our conversation and impress the girls at the table, we decided it was time to change venues.
Without noticing the time was 3 a.m. and our jetlagged bodies were asking us what the hell was going on. We took refuge in our condo that was now looking at the Sagrada Familia, lit up like a gothic Christmas tree and reminding me of fire and brimstone in an ominous biblical sense. Our ride the next morning was looming in our brains, which were simultaneously begging for rest but too excited to fall asleep easily.
Early the next morning we rose slowly, the night before seeming like an entertaining dream filled with half saved memories and heavy laughter that was still echoing. The sunrise now cast an incredible, almost divine light, onto the church. Seeing it like this made me realize that it was dimorphic; changing its nature with whatever light that was cast upon it; from the grace of God in the light to the embodiment of eternal damnation when in darkness. I was just glad we were leaving it in the soft light of the morning, a good omen overall.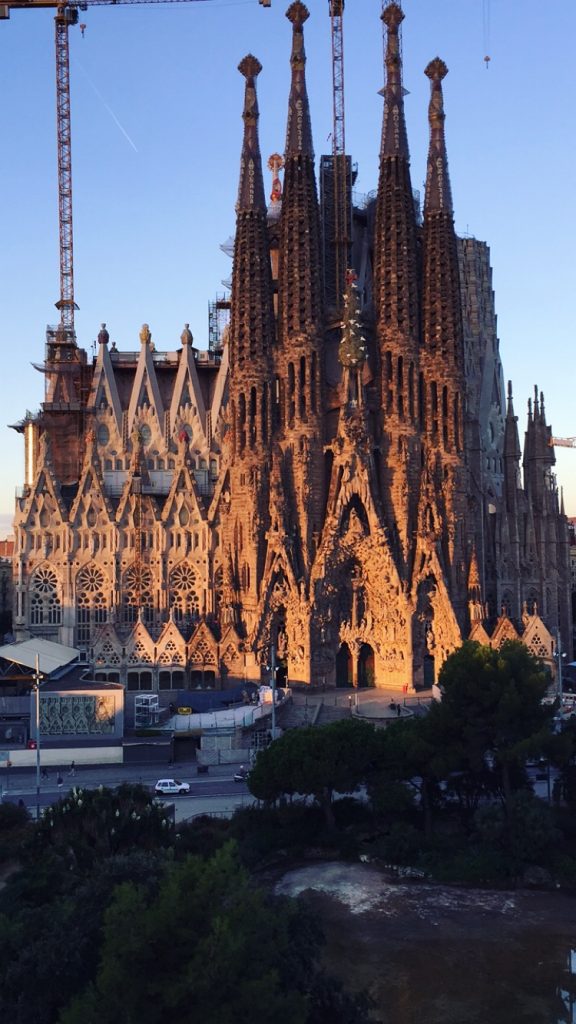 Truly Ready To Ride
We headed to the motorcycle shop where we rented the bikes we would be riding for the next 6 days. We were greeted by maybe the cutest couple in Spain, Angie and Deme. They owned a small Royal Enfield dealership and motorcycle repair shop and often gave tours to visitors. Despite the dialogue we kept with them through email over the last month, they were hesitant to rent us the bikes because of how young we looked and the number of miles we were going to ride. But after doing our best to communicate (with our broken hungover Spanish) that we have been riding our whole lives and have considerable combined experience with motorcycle maintenance, they were happy to rent us the motorcycles and even agreed to double the allowance of kilometers we could ride per day from 250km/day to 500km/day (310.7miles/day).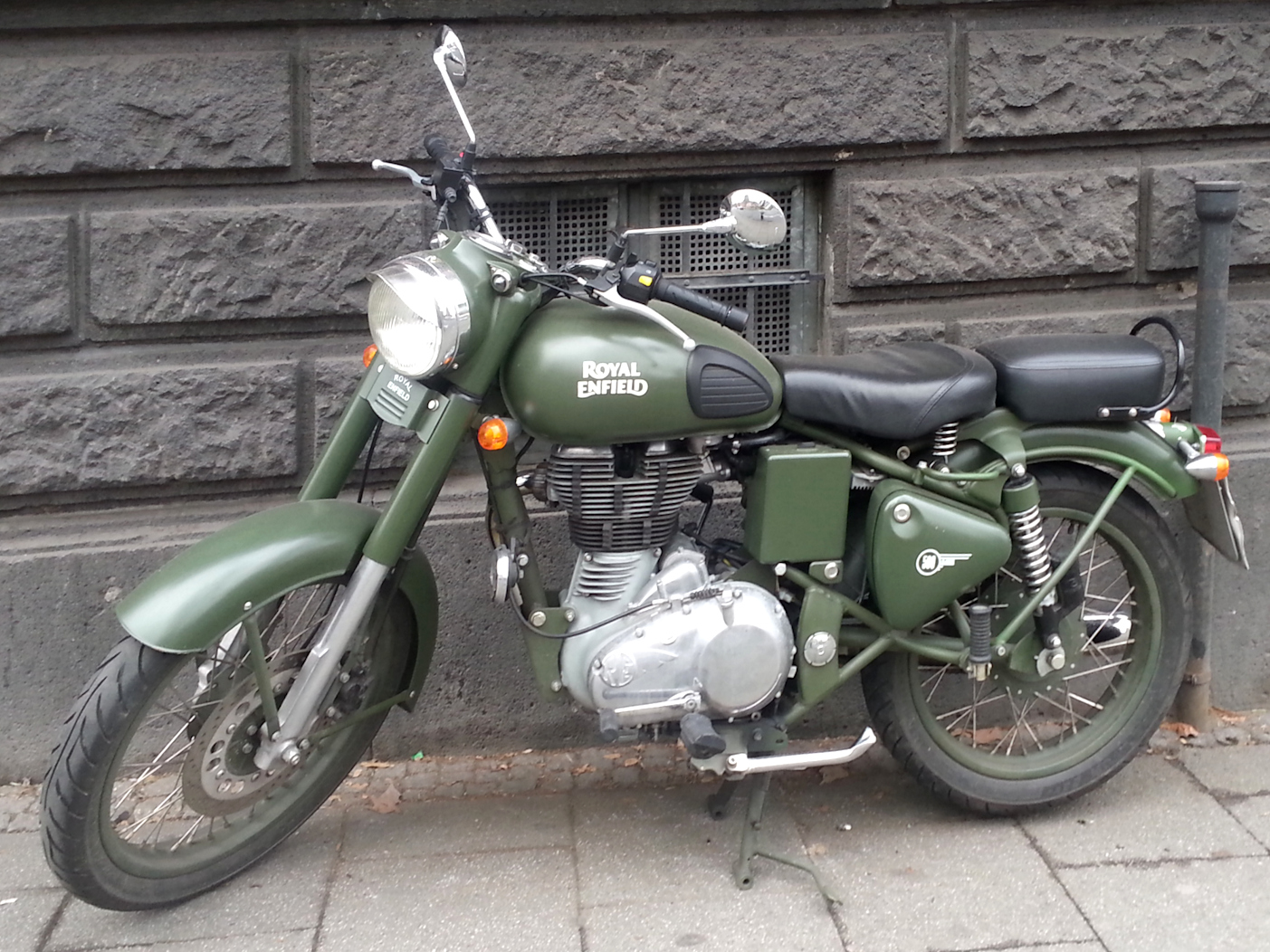 The bikes we rented were single-cylinder, Royal Enfield 500cc cruisers. They are not the quickest bikes, topping out at about 120kph (about 65mph), and had a fuel range of about 300km (180 miles). We were going to take these babies around the whole Iberian peninsula, through two countries, totaling over 3,600km (2,200 miles).  They could barely do the speed limit, but it was their reliability that was important.
Any motorcyclist should know that preparation is key for any ride that is considerably far. Anything can happen on the road and though you cant plan for everything, there are a few things you can do to minimize your risk of being stranded. The saddlebags we packed contained:
50 Zip-Ties in varying lengths
Roll of tape
Gas can
Extra quart of 20w-40 oil
Emergency rain ponchos
Extra bungee cords
Tire pressure checker
Two flashlights
A few rags/paper towels
Small bag of tools
Large water bottle
Small amount of food
Extra copies of our documents (intl drivers license, passports...)
This might seem excessive to bring with you on a vacation, but we ended up using almost everything on that list. We also strapped our suitcases that were either backpacks or duffle bags onto the back using bungee cords. This was not an ordinary vacation and we knew what we were signing up for. Or so we thought.... 
Stay tuned for the next leg of the trip, the long and cold ride to San Sebastian!