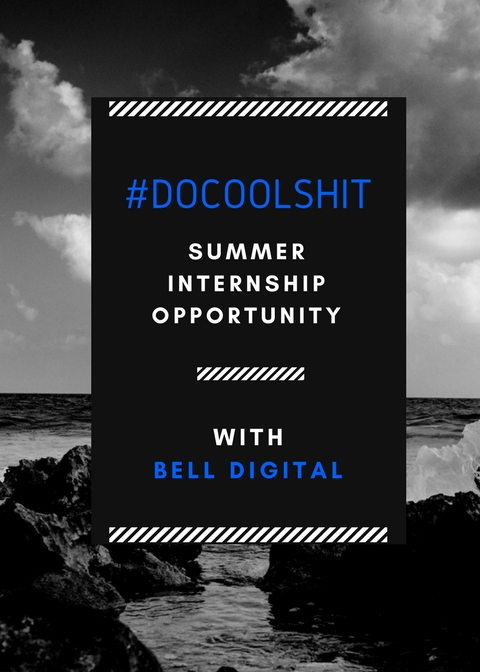 Don't You Wish You Could Get An Internship That Would Allow You To Do Whatever You Want?
Well, Here's The Deets!
Overview:
#DoCoolShit is a program designed for people to inspire others by inspiring themselves to do whatever it is they find cool. It gives the participant the freedom to express themselves and build something they can be proud of. This program will include BOTH real-world advertising and copywriting experience for local businesses as well as the chance to have complete creative freedom to create something of your own.
Program Duration:
June 18th - August 17th
Program Details:
Participants will write on a

weekly or bi-weekly

basis for clients of Bell Digital in the form of blog posts and other media. Clients may include:

Bessell Surfboards - Action Sports, Art

Nicole Frank - Fashion

Alpha Lacrosse - Sports, Gear, Fashion

REI Market Pro - Real Estate Investing

And More...

Participants will also publish one blog post

every two weeks

that will be posted on the Bell Digital website and social media (can be posted on participants social media and portfolio as well)

Post can be about ANYTHING COOL.

Participants are encouraged to go out into the world and #DoCoolShit and then write about it or make some sort of content based around it (video, animation, graphic, drawing…)

Examples of topics are:

Making an "Introducing Summer in San Diego" video

Creating a painting and talking about what it means to you or the fact that you have never painted before and how you learned.

Building a piece of furniture and detailing the entire process.

Start a blog about things you find on the beach.

Create a fundraiser for something random.

Posts can be ongoing project throughout the summer or be different every time

Submissions will be voted on and the winner will receive a

prize

at the end of summer.

Additional training will be provided on an as needed basis for:

SEO

Video Scriptwriting

Press releases

Social media

Other